The Goon: Occasion of Revenge #4
The Kid has killed one of the Goon's underworld allies — all thanks to the malign influence of the Goon's girlfriend herself! When the Goon finds out, he kills the Kid, and when he confronts Ramona, he learns that she's one of the shapeshifting harpies working for the Zombie Priests. And after that, her life ain't worth spit. But how does this play into the Arab's larger scheme?
Verdict: Thumbs up. It's a pitch-black, blood-soaked tragedy. Bad news for the Goon, but good news for readers who love great storytelling and fantastic art.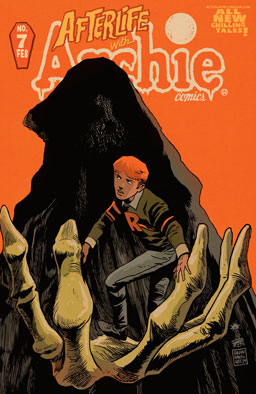 Afterlife with Archie #7
Archie and the few survivors of Riverdale are on the run from the zombies following them. Betty is trying to recreate her lost diary so she won't forget what life was like before the undead rose. Everyone's having nightmares about Sabrina the Teenage Witch. Mr. Lodge decides everyone needs a day of rest for a Thanksgiving dinner. Veronica is overcome with jealousy over Betty's and Archie's deepening relationship. And Cheryl Blossom crosses a line no one expected her to cross.
Verdict: Thumbs up. Beautifully illustrated and beautifully scripted post-apocalypse horror. The cliffhanger at the end with Cheryl gets most of the attention, and I get the impression it's a sample of what the rest of the series will be — I think it won't be long before there's almost no resemblance between who the characters become and where they began in Riverdale.
Comments off