Yeah, I've been remarkably lazy with blogging this month. I mean, I've had lots of interesting things to keep me occupied, like work, and eating and sleeping, and um, video games and… umm, well, I've basically been very lazy. And I will probably continue to be lazy. Huzzah for sleep!
Anyway, here's something I noticed the other day I thought was interesting…
The other day, artist Alex Ross released the latest cover he'd made for the "Immortal Hulk" series (and holy cow, do I ever need to review that series, right?), depicting the Hulk and the Thing sitting down in a diner for some chow.
Hopefully, their waitress is about to inform them that they're going to have to pay for the booth they're wrecking — and to remind them about the "No Shirt, No Shoes, No Service" sign they apparently ignored when they came in.
But the other great thing about the cover is the little detail of what the Hulk is eating. 'Cause the thing a lot of people forget is that, ever since the '70s, the Hulk has really, really loved eating beans.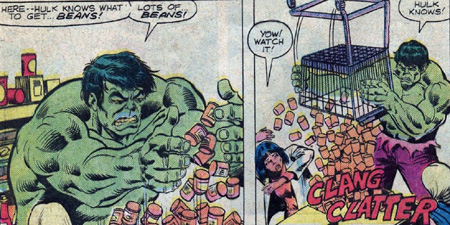 And he's loved making other superheroes eat beans, too.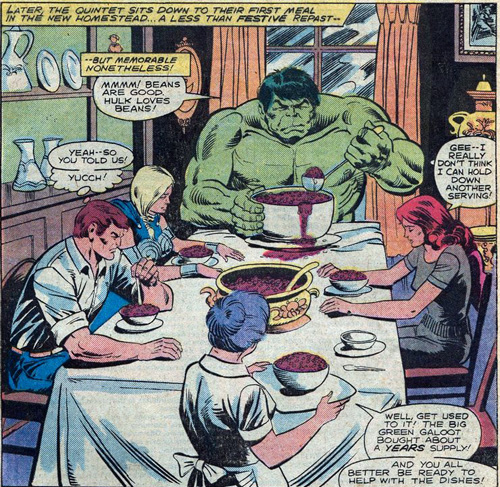 So be like the Hulk and go eat a nice, big bowl of beans. Hey, it's the weekend, and you don't have to worry about stinking up your office, right? Plus you don't have a gamma-powered digestive system, so whatever you do in the bathroom, you're probably not going to completely destroy the toilet…
Comments off