I gotta say — last week was one of the best single weeks for comics I've enjoyed in quite a while. I felt like every comic I picked up was grand fun and worth reading and re-reading.
This week was the exact opposite. Lots of stuff seemed competently written — but nearly all of it just simply bored me. There were some bright spots here and there — I'll review them next week — but on the whole, just depressingly boring stuff.
So let's get after it.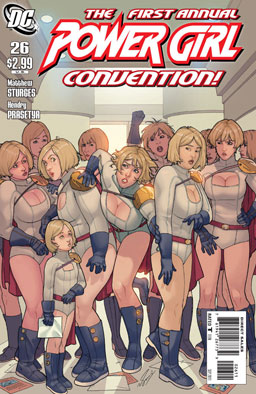 Power Girl #26
Dark Confession: Even though I still hate Judd Winick, I finally went and read the trade paperback of the "Power Girl" comics he worked on. Hey, I was depressed that there'd be no Power Girl in the DC Reboot, so I decided I'd give it a shot. And it was pretty good, so I figured I'd give the last couple issues a shot.
In this issue, PeeGee attends the first ever Power Girl fan convention, filled with tons of girls cosplaying as her. She looks on it as an opportunity to encourage young women to have positive self-images, to confront low-level evil where they can, and to uphold general feminist principles. The whole convention gets highjacked into outer space by a space alien disguised as a convention-goer — her planet is under siege by invaders, and she wants to duplicate Power Girl's powers for herself. Of course, there's a chance that the other fans can help Power Girl stop the villain.
Verdict: Thumbs down. It was entirely competent work, but — dangit, it was just boring.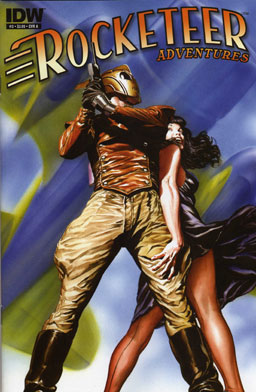 Rocketeer Adventures #3
More pulp-action tales starring the Rocketeer and his girlfriend Betty, with stories by Ryan Sook, Jonathan Ross, and Tommy Lee Edwards, pinups by Stephanie Buscema and Joe Chiodo, and a prose story by Joe R. Lansdale, illustrated by Bruce Timm.
Verdict: Some outstanding art here, but ultimately thumbs down. It was boring.
Tiny Titans #42
Bizarro Supergirl makes her first appearance. She gets romanced by Match, while Beast Boy dodges rocks thrown by Terra all issue. We also get a brief glimpse of the Bizarro Tiny Titans.
Verdict: Thumbs down. What, even my beloved Tiny Titans? Yes, thumbs down. It was boring.
Criminal Macabre/The Goon: When Freaks Collide
Well, "Criminal Macabre" is about a guy named Cal McDonald who hangs out with a ghoul named Mo'Lock, and they hunt monsters. Both of them get kidnapped to some kind of otherworld at the same time as the Goon and Franky, famed for their drinking and face-punching, get kidnapped to the same place. While the Goon and Cal beat up on each other, Franky and Mo'Lock go exploring. Will beating up hordes of monsters give all our heroes their chance to go home?
Verdict: Thumbs down. There was a nice "Little Rascals" gag and a nice final-page reveal — but on the whole, it was boring.
Batman: Gates of Gotham #3
Well, there's a lot of historical stuff about Gotham, and some guy trying to blow up the city because his ancestors got a rough deal, and the various members of the Bat-family squabbling and working together, and I'm not sure there's much else I can say about it.
Verdict: Thumbs down. I mean, it's all perfectly well done, and just about any other time, I'd probably be enjoying this. But I just plain thought it was boring.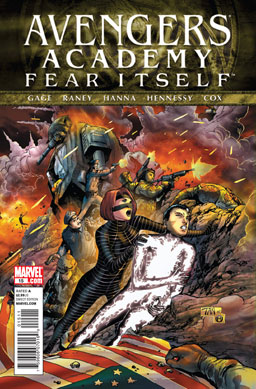 Avengers Academy #16
I missed an issue of this one somewhere down the line. The Academy members have been dragged into the Fear Itself crossover. The Absorbing Man and Titania have acquired magical hammers that give them godlike powers and mostly over-write their personalities with the minds of ancient gods. But the Absorbing Man has somehow shaken that off, and he's giving some serious whupass to Hank Pym. Elsewhere, Veil is trying to save a little girl's mother, but how will she react when victory is stolen from her at the last moment?
Verdict: Thumbs down. It was boring.
Today's Cool Links:
Comments off