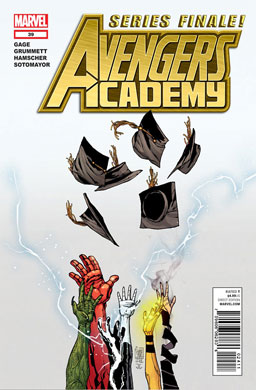 Avengers Academy #39
It's the final issue of "Avengers Academy," one of Marvel's best series. Let's start off by congratulating Christos Gage, Tom Grummett, and the other artists who worked on the series. It was great fun almost all the way through, and a great example that a superhero series can break the mold in numerous ways and still enjoy some success. I just wish it had enjoyed a bit more success…
What we get here is a lot of wrap-up of character stories. X-23 and Finesse essentially agree to disagree. Striker goes on a date and starts adjusting to his status as a gay icon. Hazmat and Mettle take their relationship to the next level. Reptil and White Tiger start their own relationship, as do Lightspeed and Karolina Dean. The students reveal to their teachers that they've known all along that they were considered potential supervillains, and they also learn what their future is with the Avengers.
Verdict: Thumbs up. An excellent ending for an excellent series. Great emotional moments for almost everyone — yes, even Finesse. My only regret is that most of the cast members here will be moving on "Avengers Arena," where they're scheduled to be pointlessly killed. But it was a good run while it lasted.
The Hypernaturals #5
While the Hypernaturals try to solve the mystery of what destroyed the previous Hypernaturals team, they track down a couple of stray clues — they search for the significance of something called the Chernovski Event, and they try to track down the mysterious Clone 21, the only one of the Clone series to go into hiding. Meanwhile, former member Stellerator, desperate for a cure for her husband, who was de-aged by Sublime, agrees to break the supervillain out of prison so he can find out who's been impersonating him.
Verdict: Thumbs up. It's still good, futuristic fun, like an alternate version of the Legion of Super-Heroes. Excellent action and dialogue, and tons of intrigue and mysteries. Mysteries piled on top of mysteries, in fact. The characterization is pretty good, too. All in all, it's a lot of fun.
Worlds' Finest #6
While Huntress visits Gotham City to steal a few million dollars from Bruce Wayne, to help finance her activities, she runs into Damian Wayne, who is essentially her alternate universe half-brother. They spend at least half the issue beating the heck out of each other. Power Girl, meanwhile, is focused on her own research, which generally involves highjacking some computing cycles from communications satellites and avoiding any contact with Supergirl.
Verdict: Thumbs up. Great action and beautiful art by both Kevin Maguire and George Perez. Still can't stand Power Girl's new costume — not like anyone else can either. That's probably the only thing they'd have to fix to make this series even more enjoyable.
Comments off