(Hey, y'all, last July, I wrote my first-ever guest-blog post for the Hello Mamas site (dedicated to helping moms meet other mom friends in their area, so their entire social lives don't devolve into nonstop baby talk and Teletubbies reruns) to talk about great comics you can share with your kids. I'd planned on posting it here a good while back, but I clean forgot for ages. I finally figured to get it dusted off and posted so we can all enjoy it. It might be a bit late for anyone who was going to give comics as holiday gifts, but what the heck, it's always a good time to start your kids reading comics. Enjoy!)
Hiya, I'm not parent, but I am a long-time comic collector, and I've been known to pass comics on to my friends who have kids. Because comics can be an awful lot of fun, and I like the idea of getting to share a hobby that has lots of fun and adventure with younger readers who also have a taste for fun and adventure.
But this sometimes gets me in a liiiiittle bit of trouble. A year or two back, I was clearing out some of my older comics and set aside a stack to take to some coworkers who had some comics-loving kids. I was a bit mortified a few days later when I was told that the dad I'd given them to had decided he better put them on the top shelf, away from younger fingers, for a few years. One of the comics I'd sent him — a superhero comic starring a bunch of teenaged characters — had included a sequence where someone's head got blown up. Holy craniums, Batman!
The unfortunate problem for parents of kids who love comics is that a lot of comics just aren't made for kids anymore. The readership has been skewing older for years, and grownup readers often want to read stories for grownups. So there's more violence in comics, more horror, more sex, more cussing, and more, well, adult material. They're often really good comics, too — but you still wouldn't necessarily want your kids reading 'em.
So yeah, I try to be more careful about gifting comics to younger readers. And if I'm nervous about it, it's gotta be so much worse for parents who may not know a lot about comics. You head into the local comic shop and grab some Batman comics for your kids, 'cause, hey, it's Batman! Adam West! Super Friends! Batman's totally family friendly, right? And then you get home and discover that Batman comics nowadays can be kinda disturbing. Hey, look, it's the Joker, and he's straight up murdering people and trying to drive superheroes insane and his face has been sliced off and is being held on with straps, and then Jane and Timmy wet the bed 'til they're in their 30s…
There aren't as many kid-friendly comics out there — and if you really want to get depressed, try to find comics for the superhero-loving girl in your family. There are discouragingly few comics about superheroines that little girls would feel comfortable reading. You have to go back a few decades to find a kid-friendly comic book starring Wonder Woman, fer cryin' out loud.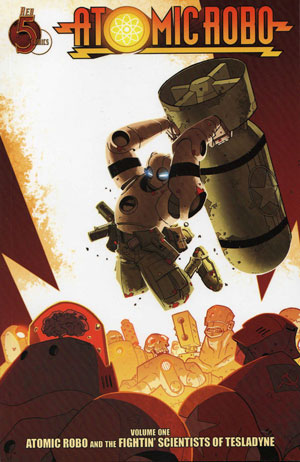 Yes, it's a definite challenge to find great all-ages comics. But it isn't impossible, and you don't have to be too nervous about shopping for comics. May I help make things easier by offering a few suggestions of high-quality kid-friendly comics?
(You'll notice that a lot of these comics aren't being published every month. And some of them haven't actually been printed in years. But they're all great comics, and they're worth tracking down in the trade paperbacks in your local comics shop or bookstore.)
And before we get started with the list, could I offer one final piece of advice? Don't assume my suggestions are guaranteed to be safe for your kids. If you want to get any comics for your kids, I recommend you read them yourself before you give 'em to your kids. You know your kids better than I do, and you owe it to your younglings to make sure I'm not accidentally recommending something your kids — or you — won't like.
Having said all that — happy reading to both you and your kids! I hope you'll all enjoy reading some of these fantastic comics!
PRE-READERS
EARLY ELEMENTARY
LATE ELEMENTARY
MIDDLE SCHOOL AND UP