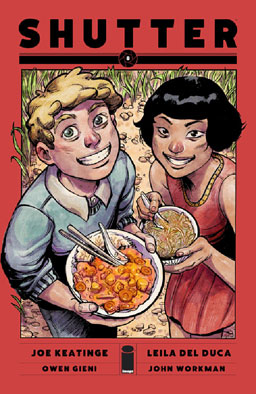 Shutter #8
Kate Kristopher and her recently-discovered half-brother Chris have been captured by one of her other previously-unknown siblings, the vengeful Kalliyan, who takes them both to her home in Cambodia. Chris is making new friends, and he's being treated a great deal better than Kate, who Kalliyan appears to blame for a lot of her misfortunes over the years. Meanwhile, Alarm Cat recently lost his head. He's still functional, but he's settling into a bout of serious depression. Can Chris help him recover?
Verdict: Thumbs up. It was all fine, but I found myself a lot more interested in the backstory of Alarm Cat (told through a bunch of excellently created comic strip knockoffs) and his struggles with the loss of his head.
Rat Queens Special: Braga #1
We get a story fully focused on the one-eyed orc princess Braga and her history — she started out as Broog, the son of an orc chieftan, and the mightiest orc warrior around. But he was less interested in battle and more in pushing orc society higher — and that meant education, less slavery, and a lot less war. But his father wasn't happy with that, and his younger brother saw a way to advance his own cause. What finally pushed Broog out of his tribe and deprived him of the people he loved?
Verdict: Thumbs up. A very cool story and great art, along with an unexpected story about a character we never knew was transgender 'til now. There's action and intrigue and humor and smart dialogue and characterization and even a little sex. Worth picking up if you love the Rat Queens characters.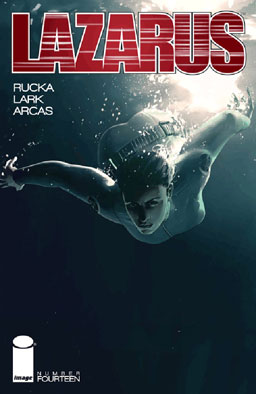 Lazarus #14
Forever Carlyle has been sent to kidnap her traitorous brother Jonah from the diabolical Jakob Hock — and then to kill him, while making it look like Hock did the deed himself. But Forever isn't so keen on blindly following every order her father gives her anymore. So she helps Jonah escape — in a desperately risky way that makes it look like he's dead. But they've gotten away with it — everyone thinks Hock had Jonah killed. But Hock has his allies among the families, and he's going to order one of their Lazarii to fight Forever to the death.
Verdict: Thumbs up. Fantastic story and artwork, with lots of action, claustrophobic intrigue, devilish double-dealing. Jakob Hock is a desperately awful villain, and I hope he gets what's coming to him.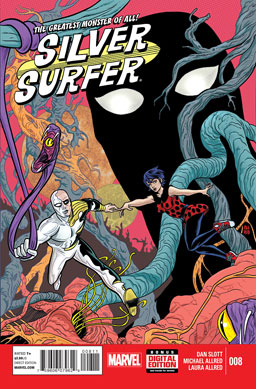 Silver Surfer #8
Norrin gives Dawn Greenwood a chance to drive his board, and her entirely unpredictable surfing style accidentally leads them to a world the Surfer has never seen before — Newhaven, where the entire population is composed of the sole survivors of lost alien races — in fact, they're all from worlds devoured by Galactus! And when they learn that Norrin is really the Silver Surfer, Herald of Galactus, they reveal to Dawn his history helping to slaughter entire worlds. Is this the end of their budding relationship? And is it the beginning of a new rampage by the Devourer of Worlds?
Verdict: Thumbs up. Excellent story and art — though I do wonder how Dawn never managed to hear about who Galactus was…
Today's Cool Links:
Comments off