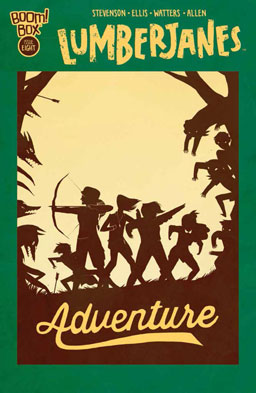 Lumberjanes #8
Jo has been turned to stone, and the devious Diane — secretly the goddess Artemis — blackmails the group to discover where she can go to gain ultimate power before she'll release Jo from the curse. But once Jen solves the clues in the cavern, Diane double-crosses them, leaving them under attack from the demon-possessed boys from the rival camp. Molly's skills with anagrams let her reveal how to restore Jo — THE POWER OF FRIENDSHIP! But only one can wield the power that Artemis and Apollo want — and what happens when that one person is one of the Lumberjanes?
Verdict: Thumbs up. An incredibly fun, exciting story, with fun art and characters and tons of great funny stuff. Who would've imagined that a raccoon with a funny hat could be so awesome?
Loki: Agent of Asgard #8
Loki and the Enchantress have both gone through the Axis flip afflicting Marvel's heroes and villains. As a result, both of them are now unquestionably heroes, though they're not very nice or humble heroes. Verity, the mortal who can always tell when someone's lying, is less than happy with the result, because Loki and Amora are both grade-A jackasses. And Loki is summoned to Las Vegas to corral someone else who's gone through a flip of the axis — Thor, god of villainy!
Verdict: Thumbs up. I'm not sold on all the Axis stuff, but this one has some gloriously funny moments, particularly Oddball, the Man with the Deadly Balls! and Loki turning into an adorable magical unicorn to run through Vegas.
Daredevil #10
Daredevil's contact with the emotional powers of the Purple Man's children has left him with crushing depression — just in time for the Purple Man himself to come swinging at him with a 2×4. He manages to push past his frazzled emotional state to run Killgrave off, but he's still stuck with the problem of how to find a bunch of kids with mind-control powers. But even once he tracks them down, he's going to have to deal with their powers and with the Purple Man's, too.
Verdict: Thumbs up. Great art, excellent story. Decent segment discussing depression, and a nice double-ending with Matt and Kirsten McDuffie.
Comments off